While they may not be quite as strong as their prescription counterparts, over-the-counter nootropics can still offer a great boost to energy and focus. The problem is that only a few actually work as advertised. We've compiled the best of those here.
Short on time? Skip ahead to the highlights here.
If the biohacker community could collectively pick a favorite topic to talk (argue) about, it would likely be nootropics. Almost no other type of supplement more embodies what the biohacking world is all about: optimizing your performance and increasing your work output to a level that's higher than what the human body is naturally capable of on it's own. 
If you're reading this site chances are you're already familiar with nootropics, at least at a high-level. But for the uninitiated of you out there the short version is that nootropic supplements are a category of compounds that are used with the goal of improving cognitive (aka brain) function.
The idea of 'improving cognitive function' can then be broken down further: increasing overall energy, maximizing focus and concentration, increasing memory and word-recall, boosting creativity, etc. 
Everyone always likes to use the "limitless pill" from the Bradley Cooper movie as an example of the ultimate nootropic, and while that probably doesn't exist (except for maybe in some secret DARPA government research lab), it is possible to get serious cognitive boosting effects from readily-available supplements. 
One caveat before we move on – this post focuses solely on over the counter compounds, and I can already hear some of you saying "laammeeee" when you read that.
I'm on 75mg of armodafinil right now (among other things) as I write this, so, trust me… I get it.
That said, we wanted to offer recommendations for people who aren't yet at that stage of their life where they're willing to order synthetic compounds on the dark web, or "research chemicals not intended for human use" from supply labs (although we'll probably write a post about that at a later date). 
Can you get stronger effects from prescription and/or black market substances? Yes. But they're hard to get your hands on since they're not DSHEA compliant and can't be legally sold as dietary supplements – not to mention that they often come with serious side effects if you don't know what you're doing.
The compounds we've highlighted below on the other hand are easily available to anyone with a credit card, and still offer serious cognitive boosting benefits. 
Best Overall
Gorilla Mind Smooth
Great Variety of Ingredients
Strong & Effective Dosage
Stimulant Free
FULL BREAKDOWN: Top 3 Best Over the Counter Nootropic Brands of 2022
Stimulant-free & no jitters
8+ hours of clean, focused energy
Alpha-GPC for blood-brain barrier choline availability
Huperzine to inhibit acetylcholine breakdown
Kanna to elevate mood & increase focus
Noticeable boost to focus, memory, mental clarity, drive
Serving Size:  3 capsules
Servings:  30
Price Per Serving: $1.30
Shoutout to Derek from MorePlatesMoreDates.com (no affiliation) for making an amazing stimulant-free nootropic formula that comes in as our #1 pick overall. I'm actually using Gorilla Mind right now as I write this, and I feel like I could work for the next twelve hours straight.
Seriously, my girlfriend is mad at me because I don't want to watch a movie with her, I just want to keep working.
Anyways.
Some of you might be familiar with Derek and MPMD already, but for those of you who haven't come across it yet the site was started a few years ago as a combination bodybuilding/dating/overall male lifestyle page and has since evolved into one of the most popular bodybuilding YouTube channels and Instagram pages out there.
Derek has gained popularity for his no-bullshit approach to breaking down supplements and dosages, and ended up starting his own supplement line to reflect what he himself would want to see in products. When it comes to their nootropic product Gorilla Mind Smooth, they've really put out something great.
For one, it's caffeine free which we actually prefer.
We always tell people that it's easy to add stimulants to a product – just make a cup of strong coffee and use that to wash down the capsules. It's impossible to take the stimulant out of a product however.
In terms of the rest of the ingredients, here are the highlights:
L-Tyrosine 750mg – Cognitive enhancing amino acid that acts by balancing neurotransmitter levels in the brain. L-Tyrosine's primary role is as the direct precursor to the neurotransmitters dopamine, epinephrine, and norepinephrine. (Recommended by Andrew Huberman as well.)
Alpha-GPC 600mg – The highest quality and most bioavailable form of Choline. While taking straight Choline has been shown to have little cognitive effect in humans since it's can't easily pass the blood-brain barrier, Alpha-GPC can cross the barrier and provide the brain with a rapidly absorbed form of choline. This supports a release of acetylcholine which leads to increased memory, concentration, focus, and information absorption/recall. (Also recommended by Andrew H.)
Kanna 250mg – While this may be one that you're not familiar with, we're a big fan of Kanna as it's been found to effectively lower stress, elevate mood, and increase focus. Kanna works mainly via increasing the amount of seratonin available in the brain. As an added bonus, if you do choose to use coffee or another caffeine source with this nootropic, the Kanna actually helps to "level out" the caffeine and make it less jittery.
Bacopa Monnieri 165mg – Typically used as a memory enhancing nootropic, Bacopa acts to protect neurons in the brain from accumulative damage and improves cognitive performance by modulating neurotransmitters.
L-Theanine 100mg – Commonly used for it's calming and relaxing effects, in the context of a nootropic L-Theanine helps to promote high levels of mental clarity by stemming over-activity in the neurotransmitters responsible for GABA, serotonin, dopamine, epinephrine, and norepinephrine. This leads to improved memory, attention, verbal fluency, and reaction time. Also helps to level out caffeine similar to Kanna.
Huperzine A 20mg – Huperzine works by inhibiting acetylcholine breakdown in the brain, leading to higher levels of acetylcholine and therefore higher cognitive performance. Huperzine has been shown to enhance memory, focus, and overall cognitive function.
We highly recommend people start with the standard three capsule serving to assess tolerance before working up to more.
In terms of dosages, those are all right around where we would want to see them, and the desired effects are definitely evident. What's also important to note are the ingredients that Gorilla Mind doesn't include: mainly, excess vitamins.
Often times supplement companies will add low doses of things like Vitamin C, Vitamin D, niacin, etc. in order to make their ingredients list look more impressive. All this really serves to do is take up valuable capsule space however, which leads to lower doses of the things that really matter.
All in all though, Gorilla Mind combined with a strong coffee (preferably a nootropic mushroom-infused coffee with Lion's Mane) first thing in the morning is the best non-prescription nootropic stack we can recommend, and it's gotten us through many 8+ hour work sessions.
It's also extremely fairly priced – the serving of coffee we usually have with it costs more than the serving of Gorilla Mind itself.
If you're interested in Derek's own full breakdown of the ingredients you can check out his video below. And again, we have no direct affiliation with Derek or Gorilla Mind – we just like the product.
Good balance of effective ingredients
Added caffeine for energy boost
Increases memory and clarity
Reduces stress and improves overall mood
Reasonably priced
Serving Size:  3 capsules
Servings:  30
Price Per Serving: $1.30
For those of you who aren't familiar with Jocko Willink yet, trust me, you want to be. The former Navy Seal Commander who led Task Unit Bruiser in the battle of Ramadi, Iraq is now a successful NYT best-selling author and runs a leadership coaching business. He's also a lean 230 pounds and has a black belt in Brazilian jiu-jitsu.
What does that have to do with nootropics? Nothing. But it's awesome. Just looking at Jocko's Instagram page where he posts daily pictures of his watch every morning before 5am will give you an energy boost in itself. His podcast is great too.
What is relevant to this post however is that Jocko and his team recently started their own supplement line, and it's quickly become one of our favorites overall. Their nootropic blend Jocko Discipline GO is a great formulation of ingredients that offers a significant boost to energy and mental clarity.  Here's the list:
Some of those ingredients we already detailed above under Gorilla Mind, but a few unique standouts include:
Ashwagandha 250mg – adaptogen used to fight stress and aid in mental clarity and recall
Beet Root 150mg – nitric oxide booster (more useful for physical performance vs mental, but still beneficial towards overall energy)
Theobromine 20mg – mild stimulant that increases overall stamina and can help to level out caffeine
While we would like to see the Alpha-GPC and L-Theanine doses be higher, and aren't a huge fan of the caffeine added in as we'd like the option to add that ourselves (or not), this is still a potent cognitive energy booster.
Caffeine free formula
L-Tyrosine and L-Theanine included
Alpha-GPC for bioavailable brain choline
Serving Size: 2 capsules
Servings:  45
Price Per Serving: $1.75
Arguably one of the most well-known over the counter nootropic products available due in no small part to the fact that Joe Rogan is a partner in the parent company Onnit (and promotes it regularly on his podcast), Alpha Brain is still a decent option despite its mainstream vibe.
Alpha Brain contains a number of the same beneficial ingredients as Gorilla Mind and Jocko Go – mainly L-Tyrosine, L-Theanine, Alpha-GPC, and Bacopa – as well as some unique additions. 
The issue we have with it however is that (as you can see below) a lot of those ingredients are all lumped together into their proprietary "Focus Blend" or "Flow Blend", meaning that we can't see the actual amounts of each individual ingredient.
One thing we can see though is that the dosages are definitely lower than we'd want. For example for Alpha-GPC we'd be looking to see a dose of around 500-600mg, and considering the fact that the entire 'Focus Blend' which Alpha-GPC falls into is only 240mg total, well… you get the point. 
That's not to say that Alpha Brain is useless though – it wouldn't be on this list if it was. We've used it in the past and had good experiences, especially when upping the dose from the recommended two capsules to three or four. It offers a noticeable boost in focus and drive with little to no side effects.
It also doesn't contain caffeine, which is another plus.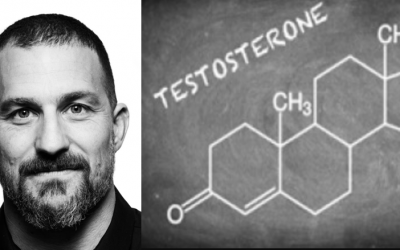 Most of the testosterone boosting supplements on the market are bullshit. There. We said it. At best they have a barely-measurable effect and at worst they do nothing or could even be harmful. But fortunately there's hope for those of us who aren't quite ready to stick a needle in our ass just yet.
Stanford neurobiologist Andrew Huberman recently appeared on JRE and other podcasts where he discussed supplements that have a clinically proven effect on testosterone. On top of that, we've also included a few bonus tricks from Tim Ferriss's 4-Hour Body chapter on testosterone boosting. Enjoy.